2022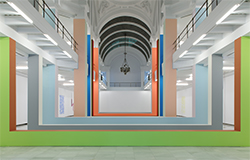 "A BRIDGE TO STAY. GUILLERMO MORA"
Sala Alcalá 31. Comunidad de Madrid
28 April - 24 July 2022
Guillermo Mora challenges the painting identity questioning its statement as a contemplative window to the world. His work is based in the analysis of the classic bidimensional painting structure in order to create new pictorial experiences in a suggestive and ambivalent place, between the creation of new pictorial spaces and sculpture.